Monthly Archive for August, 2006
This should be hilarious…
Telescope, The Long Winters, & The Donnas
I think Ray will calm down. I mean, the reason he's upset is that the cover photos of this week's Flag Live (Aug 24-30)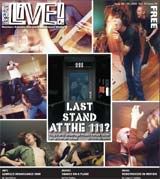 are all photos of Ray's 111 (Not "my" 111… it was mostly run by Argent and Rachel, mucho props to them! Argent is even awesome enough to have his band play the "last stand show @ 111" -Ray), which is what the article is about, yet when Nicki Escudero emailed Ray to get the sweet photos from our friend, Mihio (Mihiomanus.com), she didn't ask Ray a damn thing. His story is completely omitted. Yet, all the images on the cover come from the era when Ray ran the club (and there are even more great shots on the website.) Hell, we named the damn place One Eleven. Both of our bands are on the cover.
The understanding that will come though, before Ray or anyone else involved and omitted, gets on top of a building and thins out some of Flagstaff's population yelling "Nicki Escudero fucking did this!" is that the One Eleven, or Wildman's (pronounced WILL-DMINS), is just a building. Jim Mansene, the building's owner is not some crook Continue reading 'Why Ray Called and Said "'Nicki Escudero is a Fucking Bitch and I Want to Punch Her in the Face' is an Article I'd Like to Write and Have It Be Published In the FlagLive and Everywhere Else."'
w/ The Sweetbleeders & Nowhere Man & a whiskey girl!!!!!!!!!!!!!!!!!!!!!!!!
Recognize! PUNK! THRASH!

Well, check this out: Silk screened flyers for August 29th show double header w/ Japanther & TBIAPB!


Another thing…. that Madeline, RDP, Door Keys show was awesome… check out the pics…
Continue reading 'When are we going to the Creek?'